Faculty of Applied Computer Science
07

08

09

10

11

12

13

14

15

16

17

18

19

20

November 2022 / December 2022

21

22

23

24

25

26

27

28

29

30

01

02

03

04

05

06

07

08

09

10

11

12

13

14

15

16

17

18

December 2022 / January 2023

19

20

21

22

23

24

25

26

27

28

29

30

31

01

02

03

04

05

06

07

08

09

10

11

12

13

14

15

16

17

18

19

20

21

22

23

24

25

26

27

28

29

January 2023 / February 2023

30

31

01

02

03

04

05

06

07

08

09

10

11

12

13

14

15

16

17

18

19

20

21

22

23

24

25

26

February 2023 / March 2023

27

28

01

02

03

04

05

06

07

08

09

10

11

12

13

14

15

16

17

18

19

20

21

22

23

24

25

26

27

28

29

30

31

01

02

03

04

05

06

07

08

09

10

11

12

13

14

15

16

17

18

19

20

21

22

23

24

25

26

27

28

29

30

01

02

03

04

05

06

07

08

09

10

11

12

13

14

15

16

17

18

19

20

21

22

23

24

25

26

27

28

29

30

31

01

02

03

04

05

06

07

08

09

10

11

12

13

14

15

16

17

18

19

20

21

22

23

24

25

26

27

28

29

30

01

02

03

04

05

06

07

08

09

10

11

12

13

14

15

16

17

18

19

20

21

22

23

24

25

26

27

28

29

30

31

01

02

03

04

05

06

07

08

09

10

11

12

13

14

15

16

17

18

19

20

21

22

23

24

25

26

27

August 2023 / September 2023

28

29

30

31

01

02

03

04

05

06

07

08

09

10

11

12

13

14

15

16

17

18

19

20

21

22

23

24

September 2023 / October 2023

25

26

27

28

29

30

01

02

03

04

05

06

07

08

09

10

11

12

13

14

15

16

17

18

19

20

21

22

October 2023 / November 2023

23

24

25

26

27

28

29

30

31

01

02

03

04

05
News: Faculty & Institutes
Nov. 25, 2022
Gastdozierende aus Tschechien am Lehrstuhl für Didaktik der Geographie
Im Rahmen des F?rderprogramms "Bayerisch-tschechische akademische Projekte 2022" fand ein Austausch zwischen der Masaryk Universit?t Brno und der Universit?t Augsburg vom 15.11. bis 20.11. unter dem Titel " Augsburg trifft Brno: ein interdisziplin?rer Austausch zu geographischer Forschung und Lehre" statt. Highlight der Woche war der interdisziplin?re Doktorierenden-Workshop, an welchem Nachwuchswissenschaftler*innen aus Augsburg, Brno, Krakau und Prag teilnahmen. Ein gro?er Dank gilt der Bayerisch-Tschechischen Hochschulagentur für die F?rderung des Projekts aus Mitteln des Bayerischen Staatsministerium für Wissenschaft und Kunst.
[Geography Education]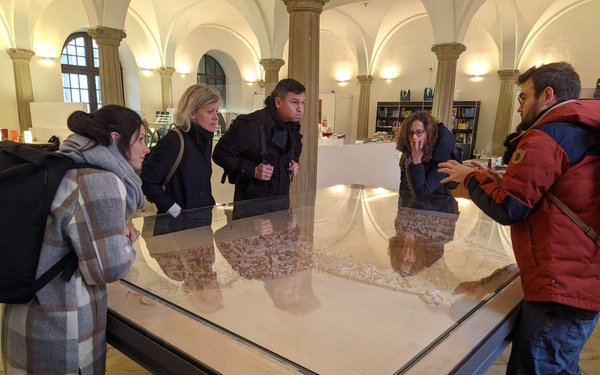 Nov. 25, 2022
Am 01.12.2022 h?lt Stephan Wolf, Absolvent des Elitestudiengang Software Engineering und jetzt CTO bei QuantCo, ab
16:00 Uhr einen Gastvortrag in der Ringvorlesung des Elitestudiengangs Software Engineering. Der Vortrag findet in Raum 1055N statt und hat den Titel "Life of an SE alumnus – from Augsburg to big tech to starting an own start-up and joining a scale-up". Zum Vortrag sind alle herzlich eingeladen.
[Institute for Software & Systems Engineering]
新万博体育下载_万博体育app【投注官网】
Nov. 25, 2022
Teilnahme von Nachwuchswissenschaftlern an Summerschool in Freiburg
Elisabeth Schuster und Johannes Schulz vom Lehrstuhl für Didaktik der Geographie pr?sentierten ihre Disertationsprojekte bei der Summerschool in Freiburg im September 2022. In begleitenden Workshops ergaben sich zudem Inputs für die Lehre und kreative Austauschformate im Themenfeld des Transformativen Lernens.
[Geography Education]
Nov. 23, 2022
Das Unternehmen recoro, das aus einem Forschungsprojekt der Universit?t Augsburg am Lehrstuhl für Embedded Intelligence for Health Care and Wellbeing (EIHW) hervorgegangen ist, hat im Münchener 7. Digital Innovation Award den 1. Platz gewonnen. Das IT-Startup hat einen intelligenten Assistenten für Vertriebsteams entwickelt, um den Verkaufserfolg in virtuellen Gespr?chen zu erh?hen und Mitarbeitende datenbasiert zu schulen.?
?
?
[Chair for Embedded Intelligence for Health Care and Wellbeing]
新万博体育下载_万博体育app【投注官网】
Nov. 22, 2022
Anmeldung Haupt- und Oberseminare für das Sommersemester 2023
Die Anmeldung zu Haupt- und Oberseminaren für das Sommersemester 2023 erfolgt in der Geographie wieder über zentrale Anmeldesets im Digicampus vom 09.01.2023 (13:30 Uhr) bis 27.01.2023 (13:00 Uhr).
[Studienkoordination]
Nov. 21, 2022
Prof. Dr. Wilfried Hagg, Fakult?t für Geoinformation, Hochschule München:??
"Die Folgen des Gletscherschwunds auf verschiedenen r?umlichen Skalen"
Vortrag am 08.12.2022, 18:00 Uhr, H?rsaal 2045 im Informatik-Geb?ude (Geb. N)
?
[Institute of Geography]
新万博体育下载_万博体育app【投注官网】
Postal adress:
?
Fakult?t für Angewandte Informatik
Universit?t Augsburg
D - 86135 Augsburg
?
?
For visitors:
?
You will find the bueraus at building N.
?
Faculty of Applied Computer Science,
Universitaetsstr. 6a
86159 Augsburg

Institute of Computer Science (Bldg. N),
Universitaetsstr. 6a
86159 Augsburg
?
Institute of Geography (Bldg. B),
Alter Postweg 118
86159 Augsburg
?

Phone +49 (0) 821 / 598-2250, -2251
?
E-Mail: dekanat@informatik.uni-augsburg.de
?
?
?